Ho Chi Minh City, 2023 – LARION JSC is thrilled to announce that we have officially become a part of the iTD Group this year. This is a significant milestone that signifies our growth in the field of information technology.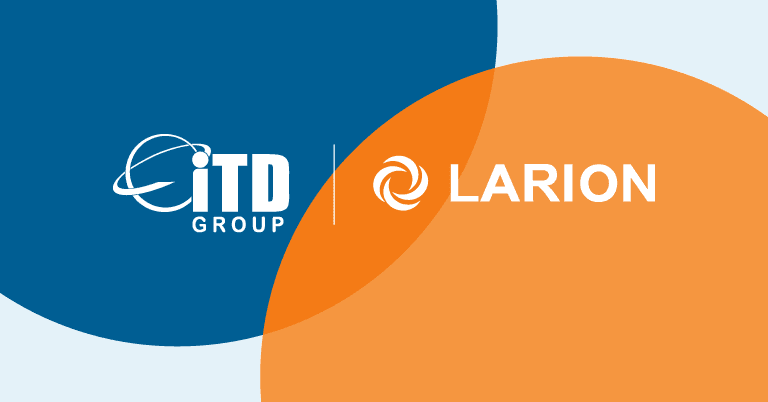 At LARION, we have always embraced challenges as opportunities for growth. With a commitment to staying at the forefront of the industry and continually seeking new avenues for progress, joining iTD Group is a natural step in our journey.
iTD Group is a listed company in the Vietnamese market. After more than 20 years of operation and development, iTD has evolved into a reputable conglomerate, with its core being the parent company, Tien Phong, and six specialized subsidiary companies operating in high-tech fields, including Intelligent Transportation, Information Technology & Telecommunications, Electrical & Automation, and Electrical Technical Infrastructure.  Some of the notable achievements of this conglomerate include: the Saigon River Tunnel Management Center, AutoID solutions for manufacturing giants like Newwing, Foxconn, Canon, Daikin, SCADA, ICSS systems for air compressors (CPP), wide-ranging lightning protection systems for MASAN…
With its reputation and influence, iTD Group has established a solid foundation for the growth of its member companies. Becoming a member of the iTD Group is considered a critical step in enhancing LARION's global presence and creating opportunities for our continuous development. Additionally, this collaboration also marks a significant step for the iTD Group in enriching and expanding its technological ecosystem.
Mr. Jacky Huy Nguyen, LARION's CEO cum Co-founder, stated, "We are delighted to join iTD Group. We believe this collaboration will bring benefits not only to LARION and ITD Group but also to our customers, partners, and employees. We are committed to maintaining sustainable growth in the future and continuing to provide top-notch products and services to our customers."
We would like to express our gratitude for the support and trust that our customers, partners, and shareholders have placed in LARION over the years. This partnership not only strengthens our position in the market but also marks the start of a promising new chapter for LARION.
About ITD Group
iTD Group, formerly known as CATIC Center, was founded in 1994 by a group of visionary scientists with a mission to play an active role in Vietnam's industrialization and modernization. Throughout its operation, iTD Group has consistently been at the forefront of capturing, introducing, and providing the latest equipment, high-tech services, integrated solutions, and turnkey technology. This commitment has established iTD Group as one of the most reliable enterprises, known for its diversified yet specialized activities.
For more information, please visit https://www.ITD.com.vn/
About LARION JSC
LARION, a global software outsourcing partner with 2 decades deep industry expertise. We are a 100% Vietnam-based technology company specializing in building highly skilled offshore development teams for fintech, banking and trading companies worldwide. Run by a team of successful entrepreneurs and dedicated technical experts – LARION is a unique symphony where we create a frictionless future for customers with passion, while maintaining full compliance with your needs and objectives.
Find our footprint in many areas such as:
We are committed to working with our clients to understand their needs and develop solutions that meet their specific requirements. We also offer a wide range of support and maintenance services to ensure that our clients are satisfied with our IT Staffing Service. We know how to bring you an ideal offshore development center within the desired time period, contact us now!